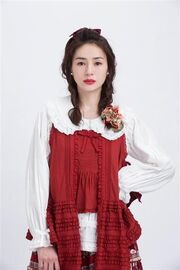 Otome
(Japanese for
Maiden
and
also called
Otome Kei
) is a Japanse fashion style that focuses on looking girly and maidenly. The style was popularized in the 70's and has much overlap with Lolita and is one of the styles in which Lolita has its roots. Many Otome brands release dresses that can double as Lolita dresses, and many Otome
coordinates
are often mistaken for
Casual Lolita,
due to their similar aesthetic with less emphasis on accessories and extreme amounts of details.
Otome Brands
Edit
External Links
Edit
Ad blocker interference detected!
Wikia is a free-to-use site that makes money from advertising. We have a modified experience for viewers using ad blockers

Wikia is not accessible if you've made further modifications. Remove the custom ad blocker rule(s) and the page will load as expected.