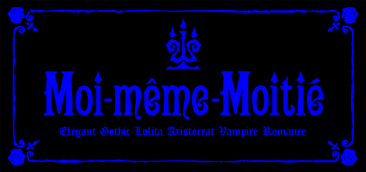 Moi Meme Moitie (properly Moi-même-Moitié), or Moitie, is a Japanese based clothing brand, it mainly sells clothes for Gothic Lolita and Aristocrat styles. It was founded in 1999 by popular Visual Kei musician, Mana. Soon afterwards, Moitie opened its first two shops in Tokyo and Nagoya.
Moitie sells lolita and aristocrat clothing and accessories.
Moitie coined the terms Elegant Gothic Lolita and Elegant Gothic Aristocrat. Their full slogan is "Elegant Gothic Lolita Aristocrat Vampire Romance" which can often be found included on their printed pieces. Their signature color scheme is electric blue and black and they frequently feature gothic icons such as crosses, roses, and candelabras.  
External Links
Edit
Ad blocker interference detected!
Wikia is a free-to-use site that makes money from advertising. We have a modified experience for viewers using ad blockers

Wikia is not accessible if you've made further modifications. Remove the custom ad blocker rule(s) and the page will load as expected.