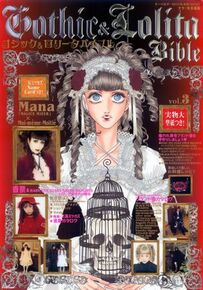 Gothic & Lolita Bible (shortened to GLB or G&LB, occasionally simple referred to as Bibles) is Japanese mook that features Gothic and Lolita fashions. The title is often erroneously read as "Gothic Lolita Bible", leading to the misinterpretation that all Lolita is called "Gothic Lolita" and that everything featured in it is considered Lolita. There has also been an english edition of the GLB, published by Tokyopop, which was abondoned after 5 issues (2008-2009).
Where to PurchaseEdit
Lolitas can purchase the Japanese Gothic Lolita Bibles by asking their local comic shop or book store if they are available to order. Many will not have them on shelves, but may be willing to purchse it. Other places to buy earlier issues include YesAsia, J-box, and CDJapan.
Second hand ones can be found on ebay, and other sales communities.