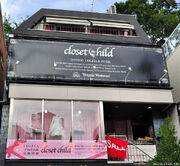 Closet Child is one of many secondhand shops with multiple branches in Japan and an online webshop that sells overseas.
Closet Child carries clothing from various brands such as Baby, the Stars Shine Bright to Moi-Meme-Moitie at lower prices than retail, depending on the condition of the garment when brought in. It has become a place where Lolitas can sell their unloved garments to make a little money and where others can find their dream items or perfect finds.
The clothes are rated on a 5/5 scale in terms of condition, with 5 being pristine and new and 1 being damaged or worn. Any damage is noted for the customers to see.
Some branches of Closet Child specialize in either Lolita, Gothic and Punk, or Vivienne Westwood items and designs, with specific stores blogging and Tweeting about recent stock and sales on various accounts for each category at a branch.
External Links
Edit
Official webshop link: [1]
Ad blocker interference detected!
Wikia is a free-to-use site that makes money from advertising. We have a modified experience for viewers using ad blockers

Wikia is not accessible if you've made further modifications. Remove the custom ad blocker rule(s) and the page will load as expected.